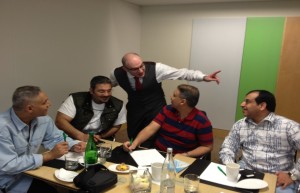 Our business sessions are designed to develop the most needed qualities. Confidence and leadership. Further, the courses will load you or your employees with other business essentials such as marketing, influencing, sales, people management, team work, strategic management or project planning. It is challenging to make all your organisational units interact one with another successfully. After all, if it was that easy, everyone would be doing it. By effective and strategic management however, you can get things in your organisation get moving the right way. Each training course is always modified to align with your organisational needs and answer all the development objectives.
Leaders are the generating force. Period. In times like this, when everyone is on the lookout for a great leader, why not develop some? You already have superb people within your reach who simply lack few skills. Let us take care of that and see how quickly your managers become driving force of great ideas and initiatives. See calendar or request your own.
Courses We Deliver: Authentic Leadership: Courage, Couching and Ethics, Women In Business: Obstacles and Challenges for Female Entrepreneurs, Networking and Relationship Management, Effective Global Leadership, Leading and Managing Remote Teams, Middle Management Skills, Leading With Emotional Intelligence-Psychology of Leadership, Leadership and Management Skills for the 21st Century, Succeeding as a New Manager, Mastering Administration and Secretarial Skills, Doing Business in the Middle East: Challenges, Obstacles and Opportunities, Leading Change- Organisational Development, Leadership and Management Master Class, Strategic Management Skills for Existing Managers, The Power of Leaders, Business Protection Against Fraud and Corruption.