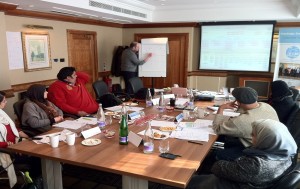 In the past four years we have delivered courses, with outstanding results, in Turkey, France, Spain, Dubai, Abu Dhabi, Libya, Sudan, Scotland and London in general topics such Business, Management, Leadership, HR, Public Relations, Law, IT, Security, Cultural Awareness or Entrepreneurship and countless of custom designed trainings such as Petroleum Production Engineering, Library Management and Electronic Archiving, Safety and Reliability Engineering for Oil and Gas, Food Management and Safety and many more.
Tailored training schemes are designed and delivered based on companies' individual needs and wishes following up our free business screening and analysis. Majority of trainings include corporate visits and real experience and insights.
During the course, our employees are to customer's disposal 24/7, ensuring training objectives are utterly satisfied. All of our employees have great command of cultural and local codes and follow the highest quality industry standards.